How Can We Help You?
Are you ready to pass the Patent Bar? Check out our Patent Bar review course and customizable tools. Get started on the road to your new career today.
If you're interested in learning more about the patent bar exam and a career in patent law you're in the right place. Review our free resources and explore this exciting and lucrative career.
Have You Decided to Take the Patent Bar Exam?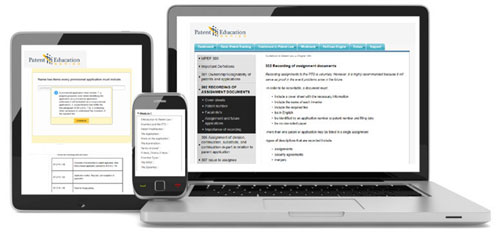 Patent Bar Review Course: Overview  |  Free Trial
Based on the 9th Edition MPEP and the Notices for the Exam starting June 1, 2015
If you're planning to take the Patent Bar exam we have the tools and programs to help you prepare. Our most popular product is our complete Patent Bar Review Course.  You can enroll in the online course or the hard-copy version and start preparing for your new career today.
Our Patent Bar Review program is designed to prepare you for your new career and fits into your busy schedule. You can access it on the go, from virtually any device (desktop, laptop, tablet, and mobile phone). Simply choose from one of our study plans (we offer 4 and 8 week, 3, 6, 9, and 12 month planners), and start following the course.
Get the online learning platform complete with detailed course materials, customizable study planners, interactive study tools, unlimited quizzes, and practice exam sessions. For those who prefer printed manuals, enroll in the hard-copy version (includes online access for updates).
Follow a 3-Step Program From the Comfort of Your Own Home.

Learn more: Complete Patent Bar Review Course | Free: Demo the course and get started 
All course materials are based on the currently tested information; MPEP 9th Edition + Exam Notices which the Patent Bar began covering October 4th, 2014. Materials include America Invents Act (AIA) rules and laws as well as pre-AIA rules and laws where relevant.
These latest updates incorporate the America Invents Act (AIA) into the exam. Our Patent Bar review course integrates this new material completely. Be sure that any review materials you purchase are up-to-date. The exam is difficult enough that you don't want to study from an outdated course.
Please also be sure the review materials you purchase were created by a registered patent practitioner. There are many small companies and individuals in this just for the money. Many materials are not prepared by a professional with a patent law background and will not be nearly as helpful to you as those that are. Review more about our company here.