About the Patent Education Series ™
Countless individuals have passed the Patent Bar Exam with the aid of the Patent Education Series™ review course materials since 2001.
A growing number of attorneys, scientists, engineers, and law students prefer our independent study program to live courses. Our Patent Bar Review course features an interactive, online members area, complete with everything you need to help you pass the exam. We focus on the tested materials and on providing you with a good user experience.
Our materials were put together with a concrete start and end strategy in mind. A gradual increase in the complexity of the material eases you into the details of patent law.
Active learning exercises increase your retention as opposed to passively watching a video or reading a manual. Every step of the course has been planned out to maximize your learning so you can pass the exam as quickly as your schedule allows it.
We've evolved our course materials from a home study program to an online interactive program. We were the first to implement an online component to our materials. Since the course is completely online, it enables us to implement updates and new study materials much more quickly and easily.
The online training area for members focuses on active learning with interactive, mobile-friendly quizzes and easy-to-use study materials. E-learning has evolved past just online video or downloadable text and our online course makes the most of the new technology.
We have a remarkable record of helping people pass the Patent Bar exam and truly care about your future. Review our success stories from previous clients to hear what they have to say about our course materials.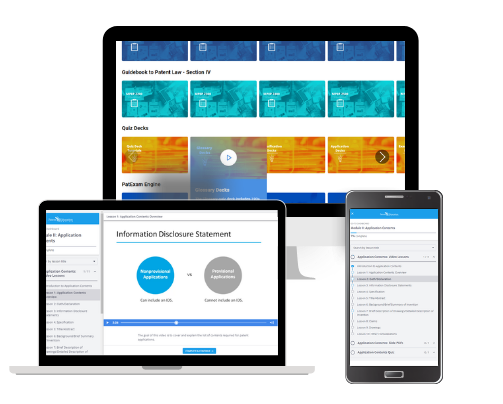 "Passed in 3 Months!"
"Just wanted to contact IP Enterprises and inform you guys that I passed the Patent Bar today. After 3 months of studying and hardwork, I want to thank you for the materials. The material not only prepares you for the test but provides an understanding of Patent prosecution.
Thanks again."
A.K.
Patent Agent
Patent Education Series™ Team
Founder & Primary Author
Lisa A. Parmley is the founder and President of Intellectual Properties Enterprises, Inc, the parent company for the Patent Education Series™. She is also the primary author for the Patent Education Series™ Patent Bar Review course.
Ms. Parmley is a registered patent agent (#51006) recognized by the United States Patent and Trademark Office. You can confirm this on the official USPTO website.
She has written patent-related courses for Building Block CLE (BBCLE.com), an online Continuing Legal Education program directed by Jim Longacre. With her strong background in biotechnology, she created the Biotechnology Series for Mr. Longacre's CLE program.
She received her undergraduate degree in Biology, along with a Master's degree in Biological Sciences with an emphasis in Molecular Biology & Biochemistry. Upon graduating, Ms. Parmley worked as a Research Scientist at the Webb-Waring Institute for Cancer, Aging, and Antioxidant Research and is co-author of several scientific papers.
In addition, her past teaching experience includes educating all levels of college undergraduates and graduate students in various college science courses. Her Patent Bar Review course has received excellent remarks from the many individuals who have used it to prepare themselves for and pass the Patent Bar Exam.
Lead Software Architect
Scott Parmley created the scoring capabilities for the elearning course from the ground up. This has added significant value for our clients as now they can track their progress through the course every step of the way.
Although we do not publish an official pass rate, of our clients who actually complete our course as recommended, we have seen zero failures. The Score Keeper application developed by Scott allow clients to view every quiz and test score as well as visualize their progress. Clients may also review questions they have answered wrong so they can hone in on what they're having the most trouble with.
Elearning courses have progressed far beyond simply showing text and videos online and with Scott's help we've been able to far surpass what many other online courses attempt to accomplish.
Patent Education Series™ Tools for Success
Premium Courses
Patent Bar Review
Learn more about the Patent Bar review course scientists, engineers, and attorneys have been enrolling in since 2001. Available in the online, interactive format (mobile friendly) or print option. Even if you have no previous patent law experience, this course will prepare you for the exam.
Patent Training Workshop™
The Patent Training Workshop™ helps you learn the fundamentals of patent law. Perfect for engineers and scientists creating intellectual property, paralegals and patent law office administrators, and Patent Bar candidates who want to step into the field.
Patent Law Books
Review our selection of patent law books and get exactly what you need. Whether you're determined to become a Patent Practitioner and pass the Patent Bar exam or simply learn a little more about patent law.
Patent Education Series™ Free
Free Information
Free Trial Account
Gain a free trial account to the patent bar review program. Try out the patent bar review with the active, incremental methodology. It's designed to help you pass the patent bar on your first try, even with no prior law background.
Patent Bar Information
Find all our free tools and resources on the Patent Bar in one place. Thousands of people just like you use our free tools each and every year.
Explore Careers in Patent Law
Research what a career in patent law is like. Read interviews from Patent Practitioners and others in this legal field. Take a career assessment and find out if patent law is right for you.
MPEP Q & A Podcast
Each short (3 to 5 minute) episode covers a detailed question and answer from the MPEP. Included is a summary of the specific MPEP section the episode covers.