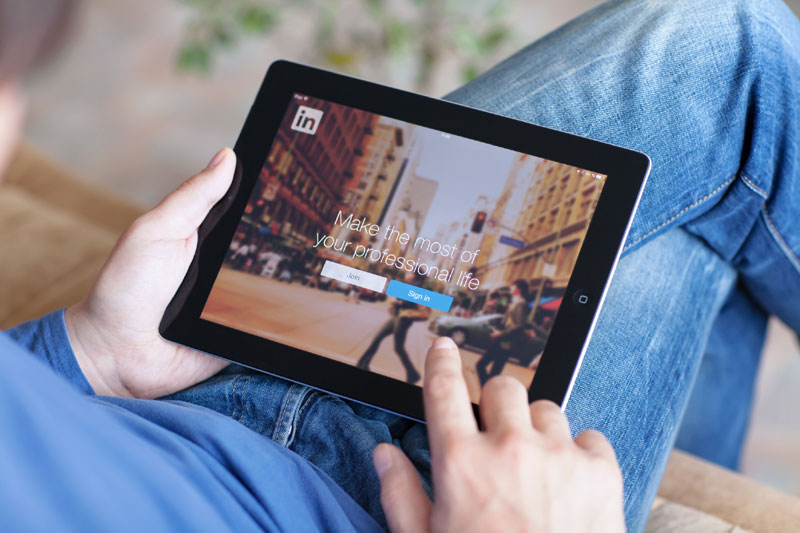 What did we do before the internet became a regular part of our lives? How did we shop for jobs? What made employers want to choose us over the next applicant? How did we even find applicable postings for which to apply?
While these questions are interesting from a sociological perspective, the truth is, these questions are no longer relevant. The internet has found its way into our worlds, and smart job seekers are wise to embrace the challenges and opportunities professional platforms such as LinkedIn can provide. The thing is, while there is no one-size-fits-all answer (after all, what would be the point of being unique if we were all the same?), there are certain guidelines by which you should abide if you want to be noticed.
LinkedIn provides an unending plethora of job-seekers and job-givers. The key lies in knowing where your strengths are and how you can relate those to your target audience. As a job seeker, your market is any business who's willing to pay attention to you, which means you'll have to do a little self-exploration and a lot of self-marketing. Once you identify who you are, you can easily tout your brand to potential employers.
When it comes to patent law, everything is pretty black and white, right? The law doesn't work well with gray areas, so you've probably trained yourself to be as straight-forward as possible when you're doing your daily duties. Utilize this mindset to solidify a platform-penetrating presence that will work well for you as you branch out and look for new opportunities.
Here are a few ways LinkedIn can bolster your job-search status if you're looking for a job in patent law:
#1. Build Out a Full Profile
Sure, this may seem obvious to some, but for people who are new to the job possibilities the internet provides, this isn't necessarily a given. Bear with us as we start from the very beginning.
Your LinkedIn profile is your online resume. This is where potential employers will look to see what you've done, who's willing to give you credit for that work, and how far you've come during your career. Don't skimp on the details, but don't go overboard, either. There's a fine line between being thorough and being boastful. Opt for the former, and find ways to tout your accomplishments, skills, and the impacts you've had on your former (or current) employers' businesses while still maintaining a professional approach.
Quantitative Over Qualitative. Use real numbers to drive your message home. Have you worked on "many" cases, or have you worked on more than 300 cases? For each entry on your virtual resume, try to quantify your experience with real numbers.
Unique Information. What makes you you ? Have you started a newsletter to help your colleagues gain insight about the goings on in the industry? Have you joined industry-specific organizations, which allow you to tout your own knowledge while learning from others? LinkedIn is all about gaining insight from others while you showcase your amazing abilities, too.
Include a Photo. Contrary to traditional resumes where including a photo is a complete taboo, employers expect to see a photo when they browse your LinkedIn profile. Be mindful that a picture really can be worth a thousand words, so aim for a professional headshot that includes business professional attire. You don't want to lose your potential dream job because you cropped your image out of a beer-inspired photo bomb.
# 2. Join Job Search Groups
In the land of LinkedIn, there are groups for nearly every kind of professional interest. Naturally, when you're on the job hunt, your biggest professional interest is finding an employer. Job search groups are excellent resources that allow you to connect with other job seekers so you can share insight, get tips, and learn new techniques. Human resource professionals also tend to peruse these groups, since there's an endless variety of talent waiting to be discovered within them.
Be active on discussion boards. Don't be afraid to ask questions or participate on others' threads if you have helpful advice you can offer. You never know who's watching those boards, so the best way to get noticed is to always be putting your best foot forward.
# 3. Join Legal Groups
Although they may sounds similar if you're not an experienced LinkedIn user, there's actually a big difference between #2 and #3. Our second bullet is focused specifically on groups that revolve around job searches. In those groups, you'll be surrounded by individuals from all walks of life, backgrounds, industries, and professional status.
When you join legal groups, however, you'll be exposed to working law professionals who come together to share their own industry expertise. In other words, these people aren't usually looking for jobs — although some certainly may be — they're networking with others who share the same professional interests as you do. This is where you can start meeting people who may be able to help you get your foot in the door at a great firm.
You'll likely find a mix of local and national legal groups. Don't shy away from one or the other, as they can both offer their own unique benefits.
National groups can expose you to an incredible number of people you may not otherwise have the chance to interact with. Take the time to engage in conversation with industry experts when appropriate. Consider keeping track of some of the trending discussions, as these can be great fuel for your interviews.
Local groups tend to boost networking power. You never know who knows who, so it's important to work your own connections. Pay attention to others' connections, and don't be afraid to ask for introductions if you're mutually connected to someone you'd like to talk to. While someone may decline your request, many LinkedIn users will be willing to oblige, knowing they may need the same from their own connections some day. Sometimes, local groups meet up in person, as well. If these opportunities present themselves to you, don't pass them up! Industry-specific happy hours or round table sessions can be invaluable ways to shake hands and make eye contact with people who may ultimately be signing your paycheck.
It cannot be said enough: LinkedIn is a place where you have to utilize the power of your connections!
# 4. Follow Your Ideal Companies
Just like the rest of social media, companies like to be liked. Following your target companies can boost your possibilities two-fold:
First, it never hurts to have your dream company's logo on your own LinkedIn page as a followed company when the recruiter takes a look at your page. It shows you're genuinely interested in their company, rather than just trying to get a job with any company. Remember, first impressions count, and you only get one chance to make them.
Second, you'll be apprised of all the latest company updates and topics when you follow your target companies. Take the time to read the articles your favorite companies post, like and share them, and comment on them. Once again, be aware that the next phone call you receive could schedule an interview, and since you did your homework and followed your favorite companies, you'll have plenty of fuel when the hiring manager asks what you know about his or her organization.
# 5. Work Your Channels
So, you managed to grab an interview for a position that looks like everything you're looking for, but you don't know anything about the company. Now what? According to Business Insider, "77% of LinkedIn users said that it helped them research people and companies." In other words, this is when you get to work, backtracking through the online trenches so you can learn as much as possible about the company, the person who will be interviewing you, the position, and the culture.
Search for the name of person with whom you'll be interviewing.

Do you share common connections?
Is there someone you're mutually connected to who may be able to shed some insight?
Do you and the interviewer share other commonalities? Perhaps you went to the same school or have the same language minor.

LinkedIn will tell you about other people who are commonly searched in conjunction with this person. Review these profiles, too.

Take a look at the leaders' backgrounds, job history, and pertinent information.
Find talking points that can tie your research into easy conversation when you meet with your prospective employer.
In the end, there is no simple solution, so to speak. However, the job search doesn't necessarily have to be difficult, either. There's a happy middle ground where due diligence meets easy networking. If you do your research — which should come naturally, given you're seeking employment in patent law — and abide by a few social media must-dos, you'll propel your career to the next level before you know it.
About the Author
Kristin is a professional content writer who focuses on human resource-related content. After a tedious job-search journey a few years ago, she employs her lessons learned to make the job quest easier for others.
https://www.patenteducationseries.com/wp-content/uploads/2017/07/linkedin-800.jpg
533
800
Kristin B.
https://www.patenteducationseries.com/wp-content/uploads/2014/07/logo-centric-bw.png
Kristin B.
2017-11-16 08:16:52
2017-09-25 13:49:34
Using LinkedIn in Your Patent Law Job Search