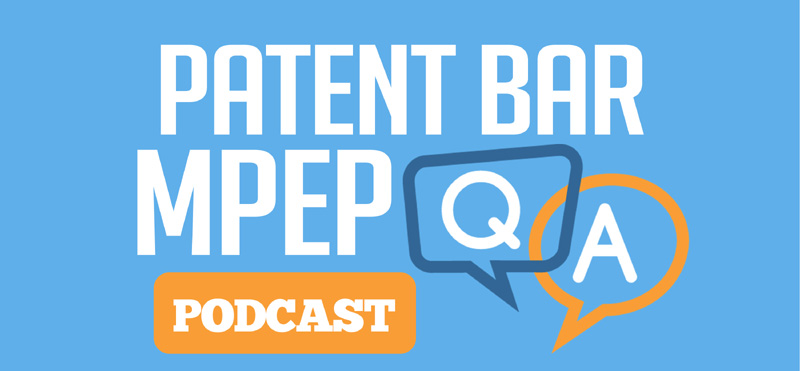 Podcast: Play in new window | Download
Subscribe: Apple Podcasts | Android | RSS
Question:
Name one item the submission of Article 19 amendments should comprise.
Answer:
The submission of Article 19 amendments should comprise:
(i) a complete set of claims in replacement of the claims originally filed
(ii) a letter which must indicate the differences between the claims as filed and those as amended plus the basis for the amendments
(iii) an optional statement under Article 19
Chapter Details:
The answer to this question can be found in chapter 1800 of the MPEP. This chapter covers the patent cooperation treaty or PCT.
The answer is from the 9th Edition, Revision 07.2015. Depending on future changes to the MPEP, the question and answer may be applicable in later Editions or revisions.
Section Summary:
This question and answer comes from section 1853 of the MPEP.  The following is a brief summary of section 1853.
1853 Amendment Under PCT Article 19

The applicant is entitled, under Article 19, to one opportunity to amend the claims of the international application in the international phase. Further opportunities to amend the claims, and also the description and the drawings, are available during the international phase under Article 34 if, and only if, the applicant files a Demand for international preliminary examination.

Any amendment to the claims under Article 19 must be filed with the International Bureau – not with the receiving Office nor with the International Searching Authority. The amendments must be in the language in which the international application is published.

Further details for amendments under PCT Article 19 are discussed in this section.
https://www.patenteducationseries.com/wp-content/uploads/2016/05/mpep-podcast-art-800.jpg
800
800
Editorial Staff
https://www.patenteducationseries.com/wp-content/uploads/2014/07/logo-centric-bw.png
Editorial Staff
2017-08-22 08:04:51
2021-05-16 14:04:42
MPEP Q & A 104: What Submission of Article 19 Amendments Should Comprise