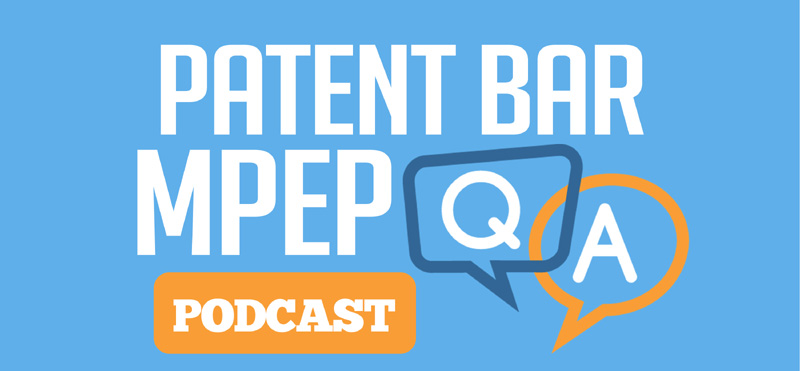 Podcast: Play in new window | Download
Subscribe: Apple Podcasts | Android | RSS
Question:
What is the order of arrangement for the specification?
Answer:
The following order of arrangement is preferable in framing the specification.
(A) Title of the invention.
(B) Cross-reference to related applications.
(C) Statement regarding federally sponsored research or development.
(D) The names of the parties to a joint research agreement
(E) Reference to a "Sequence Listing," a table, or a computer program listing appendix submitted on compact disc and an incorporation-by-reference of the material on the compact disc.
(F) Statement regarding prior disclosures by an inventor or joint inventor.
(G) Background of the invention.
(H) Brief summary of the invention.
(I) Brief description of the several views of the drawing.
(J) Detailed description of the invention.
(K) Claim(s) (commencing on a separate sheet).
(L) Abstract of the Disclosure (commencing on a separate sheet).
(M) Sequence Listing, if on paper.
Chapter Details:
The answer to this question can be found in chapter 600 of the MPEP. This chapter covers Parts, form and content of application.
The answer is from the 9th Edition, Revision 07.2015. Depending on future changes to the MPEP, the question and answer may be applicable in later Editions or revisions.
Section Summary:
This question and answer comes from section 608.01(a)  of the MPEP.  The following is a brief summary of section 608.01(a).
608.01(a) Arrangement of Application

The arrangement of the application is briefly outlined here with reference to 37 C.F.R. 1.77 Arrangement of application elements. There is also a discussion on how to handle a discrepancy between the information submitted in an application data sheet and the information submitted elsewhere in the application in applications filed before and on or after September 16, 2012.
https://www.patenteducationseries.com/wp-content/uploads/2016/05/mpep-podcast-art-800.jpg
800
800
Editorial Staff
https://www.patenteducationseries.com/wp-content/uploads/2014/07/logo-centric-bw.png
Editorial Staff
2017-11-07 08:00:17
2021-05-16 15:11:51
MPEP Q & A 115: What is the Order of Arrangement for the Specification?