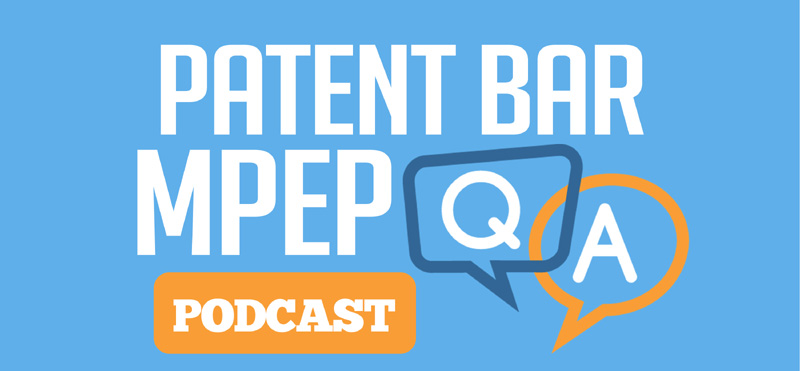 Podcast: Play in new window | Download
Subscribe: Apple Podcasts | Android | RSS
Question:
List 2 submission types that may not be filed via EFS Web.
Answer:
The following is a list of submission types that are not permitted to be filed using EFS-Web:
Plant patent applications and follow-on documents associated with plant patent applications, other than third party preissuance submissions.
Requests for Reexamination for plant patents and documents associated with reexamination proceedings for plant patents.
Requests for inter partes review.
Any third party inquiries, petitions or papers unless specifically authorized by the EFS-Web Legal Framework (e.g., citation of prior art and written statements in patent files) and/or provided for via dedicated EFS-Web interface (e.g., Third Party Preissuance Submissions) is improper. Some examples of third party papers include inquiries into the timing of future actions on an application, disputes over inventorship in an application, and demands that the Office withdraw an application from issue on the basis of unpatentability of a claim.
Color drawings and color photographs for international applications that have not entered the national stage.
Initial submissions for patent term extension.
Correspondence concerning registration practice.
Certified documents.
Correspondence to be filed in an application subject to a secrecy order.
Documents filed in contested cases and trials before the Patent Trial and Appeal Board (PTAB), except as the PTAB may expressly authorize.
Documents filed in contested cases and trials before the PTAB.
Correspondence filed in connection with a disciplinary proceeding.
Maintenance fees submitted that are not submitted with a petition. Patent owners may pay electronically using the proper methods for submitting maintenance fees.
Assignment documents, which may be electronically filed using the Electronic Assignment System (EPAS) or the Electronic Trademark Assignment System (ETAS).
Submissions that are not associated with a patent application, international design application, reexamination proceeding, or supplemental examination proceeding.
Chapter Details:
The answer to this question can be found in chapter 500 of the MPEP. This chapter covers receipt and handling of mail and papers.
The answer is from the 9th Edition, Revision 08.2017. Depending on future changes to the MPEP, the question and answer may or may not be applicable in later Editions or revisions.
Section Summary:
This question and answer comes from section 502.05 of the MPEP.  The following is a brief summary of section 502.05.
502.05 Correspondence Transmitted by EFS-Web

This section covers correspondence submitted through the EFS-Web, which is the PTO's electronic filing system. Included is a discussion on what types of documents may be submitted through EFS-Web, legal policies, acknowledgement receipts, pre-grant (18 month) publication requests, and policies on photographs and color drawings.
https://www.patenteducationseries.com/wp-content/uploads/2016/05/mpep-podcast-art-800.jpg
800
800
Editorial Staff
https://www.patenteducationseries.com/wp-content/uploads/2014/07/logo-centric-bw.png
Editorial Staff
2019-06-11 08:01:41
2021-05-16 14:44:42
MPEP Q & A 174: Submission Types that May Not be Filed Via EFS Web.