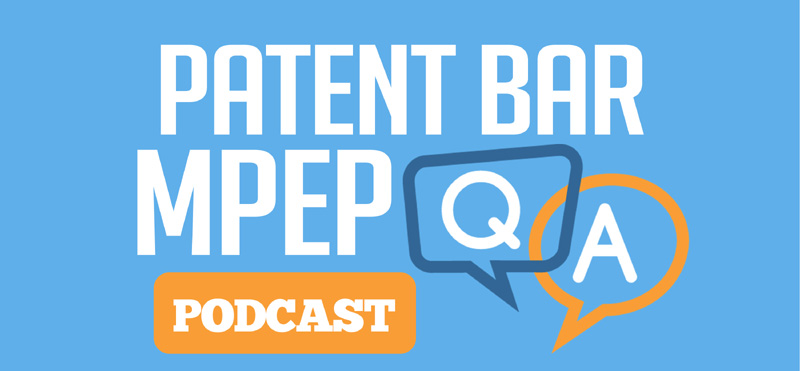 Podcast: Play in new window | Download
Subscribe: Apple Podcasts | Android | RSS
Question:
Does the petition to make special apply to patent applications for inventions dealing with energy resources?
Answer:
The U.S. Patent and Trademark Office will, on petition, accord "special" status to all patent applications for inventions which materially contribute to:
(A) the discovery or development of energy resources, or
(B) the more efficient utilization and conservation of energy resources.
Examples of inventions in category (A) would be developments in fossil fuels (natural gas, coal, and petroleum), hydrogen fuel technologies, nuclear energy, solar energy, etc. Category (B) would include inventions relating to the reduction of energy consumption in combustion systems, industrial equipment, household appliances, etc. Any petition to make special filed under this subsection must comply with the requirements.
All applicants desiring to participate in this program should petition that their applications be accorded "special" status. The petition must state that special status is sought because the invention materially contributes to category (A) or (B) set forth above. No fee is required for such a petition.
If the application disclosure is not clear on its face that the claimed invention materially contributes to category (A) or (B), the petition must be accompanied by a statement by the applicant, assignee, or an attorney/agent registered to practice before the Office explaining how the materiality standard is met.
The materiality standard does not permit an applicant to speculate as to how a hypothetical end-user might specially apply the invention in a manner that could materially contribute to category (A) or (B). Nor does such standard permit an applicant to enjoy the benefit of advanced examination merely because some minor aspect of the claimed invention may be directed to category (A) or (B).
Chapter Details:
The answer to this question can be found in chapter 700 of the MPEP. This chapter covers Examination of Applications.
The answer is from the 9th Edition, Revision 08.2017. Depending on future changes to the MPEP, the question and answer may or may not be applicable in later Editions or revisions.
Section Summary:
This question and answer comes from section 708.02 of the MPEP.  The following is a brief summary of section 708.02.
708.02   Petition To Make Special

By filing a petition to make special, the examination process for the application will be considerably sped up. This section covers details of a petition to make special. The specific instances where petitions to make special may be used include; the applicant's health, applicant's age, environmental quality, energy, and inventions for countering terrorism. Each of these is discussed along with the handling of petitions to make special or requests for advancement of examination.