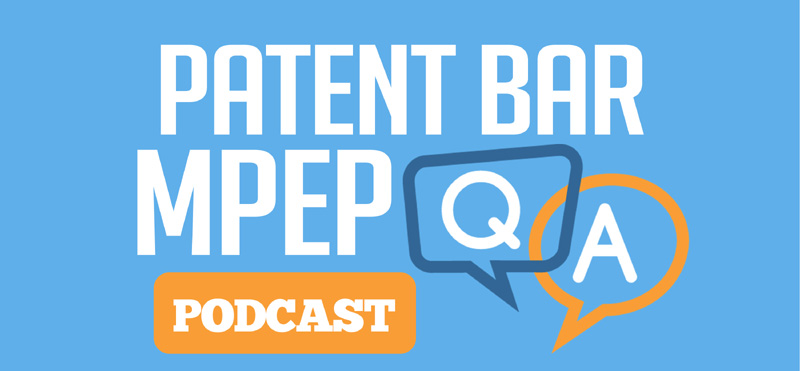 Podcast: Play in new window | Download
Subscribe: Apple Podcasts | Android | RSS
Question:
What should a petition for retroactive license include?
Answer:
A petition for retroactive license shall include:
(1) A listing of each of the foreign countries in which the unlicensed patent application material was filed,
(2) The dates on which the material was filed in each country,
(3) A verified statement (oath or declaration) containing:
(i) An averment that the subject matter in question was not under a secrecy order at the time it was filed abroad, and that it is not currently under a secrecy order,
(ii) A showing that the license has been diligently sought after discovery of the proscribed foreign filing, and
(iii) An explanation of why the material was filed abroad through error without the required license first having been obtained, and
(4) The required fee of this chapter.
Chapter Details:
The answer to this question can be found in chapter 100 of the MPEP. This chapter covers Secrecy, Access, National Security, and Foreign Filing.
The answer is from the 9th Edition, Revision 08.2017. Depending on future changes to the MPEP, the question and answer may or may not be applicable in later Editions or revisions.
Section Summary:
This question and answer comes from section 140 of the MPEP.  The following is a brief summary of section 140.
140 Foreign Filing Licenses

This section covers both expedited foreign filing licenses and retroactive licenses. Essentially, if an inventor files a patent application in the U.S., he or she may not file the same application in a foreign country prior to the passing of six months without first obtaining a foreign filing license. If the inventor files in a foreign country before the 6 month waiting period has passed without getting a license first, he or she must immediately file for a retroactive license.