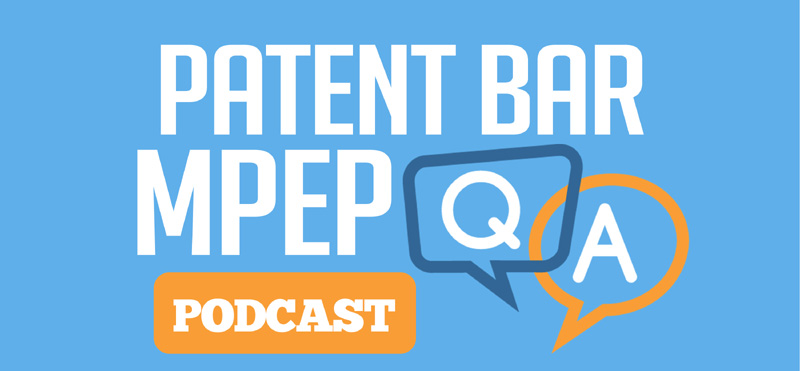 Podcast: Play in new window | Download
Subscribe: Apple Podcasts | Android | RSS
Question:
What is the difference between applicant information, correspondence information, and application information?
Answer:
Applicant information includes the name, residence, mailing address, and citizenship of each applicant ( when dealing with pre-AIA 37 CFR 1.41(b)). The name of each applicant must include the family name, and at least one given name without abbreviation together with any other given name or initial. (If the applicant is not an inventor, this information also includes the applicant's authority (pre-AIA 37 CFR 1.42, 1.43, and 1.47) to apply for the patent on behalf of the inventor. The "mailing address" is the address where applicant customarily receives mail.
Correspondence information includes the correspondence address, which may be indicated by reference to a customer number, to which correspondence is to be directed (when dealing with pre-AIA 37 CFR 1.33(a)).
Application information includes the title of the invention, a suggested classification by class and subclass, the Technology Center (TC) to which the subject matter of the invention is assigned, the total number of drawing sheets, a suggested drawing figure for publication (in a nonprovisional application), any docket number assigned to the application, and the type of application (e.g., utility, plant, design, reissue, provisional). Application information also includes whether the application discloses any significant part of the subject matter of an application under a secrecy order.
Chapter Details:
The answer to this question can be found in chapter 600 of the MPEP. This chapter covers Parts, Form, and Content of Application.
The answer is from the 9th Edition, Revision 08.2017. Depending on future changes to the MPEP, the question and answer may or may not be applicable in later Editions or revisions.
Section Summary:
This question and answer comes from section 601.05(b) of the MPEP.  The following is a brief summary of section 601.05(b).
601.05(b) Application Data Sheet (ADS) in Application Filed Before September 16, 2012

This section covers details about an application date sheet (ADS) in applications filed before September 16, 2012. Topics covered include supplemental application data sheets and their submission and treatment of inconsistent information.