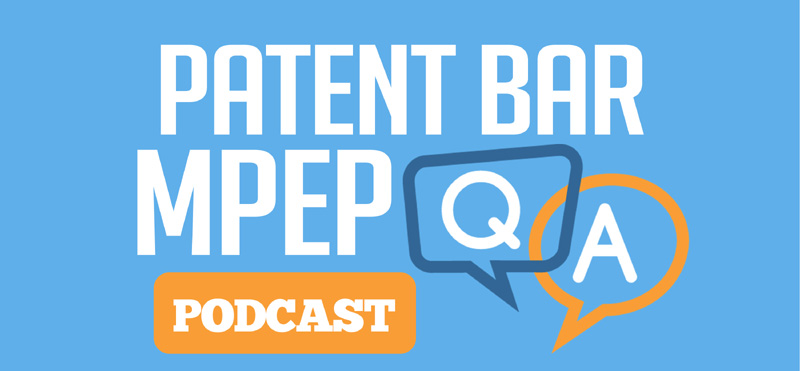 Podcast: Play in new window | Download
Subscribe: Apple Podcasts | Android | RSS
Question:
Name two types of correspondence that may not be transmitted by facsimile.
Answer:
Facsimile transmissions are not permitted and, if submitted, will not be accorded a date of receipt in
the following situations:
A document that is required by statute to be certified
A national patent application specification and drawing (provisional or nonprovisional) or other correspondence for the purpose of obtaining an application filing date, other than a continued prosecution application;
An international application for patent;
A copy of the international application and the basic national fee necessary to enter the national stage;
A third-party submission.
Correspondence relating to registration to practice before the Patent and Trademark Office in patent cases, enrollment and disciplinary investigations, or disciplinary proceedings.
Color drawings;
A request for reexamination.
Correspondence to be filed in a patent application subject to a secrecy order and directly related to the secrecy order content of the application; and
Correspondence to be filed in a contested case or trial before the Patent Trial and Appeal Board, except as the Board may expressly authorize;
An international design application;
A request for supplemental examination.
Chapter Details:
The answer to this question can be found in chapter 500 of the MPEP. This chapter covers the receipt and handling of mail and papers. The question and answer is from the 9th Edition, Revision 07.2015.
Section Summary:
This question comes from section 502.01 of the MPEP.  The following is a brief summary of section 502.01.
502.01    Correspondence Transmitted by Facsimile

This section covers facsimile transmission including what type of correspondence may be submitted via facsimile and those that may not. The date the complete transmission is received is considered the date of receipt. Transmission on holidays and weekends are also covered. The receipt procedure for filing a CPA by fax is discussed.
https://www.patenteducationseries.com/wp-content/uploads/2016/05/mpep-podcast-art-800.jpg
800
800
Editorial Staff
https://www.patenteducationseries.com/wp-content/uploads/2014/07/logo-centric-bw.png
Editorial Staff
2016-05-31 08:58:18
2016-09-04 22:08:17
MPEP Q & A 2: Correspondence That May Not be Transmitted by Facsimile