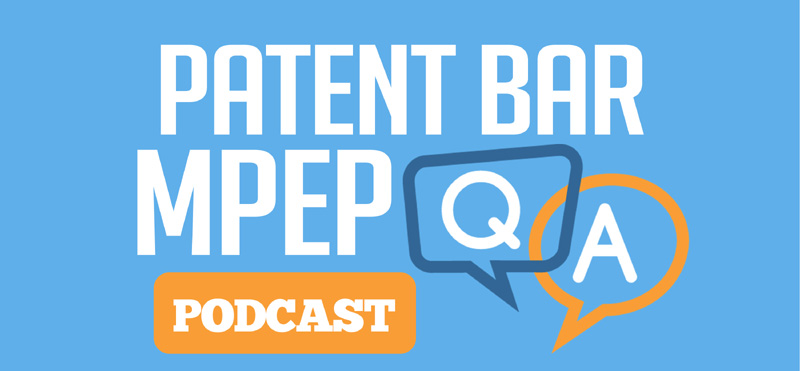 Podcast: Play in new window | Download
Subscribe: Apple Podcasts | Android | RSS
Question:
What are the "Appropriate circumstances" to vacate the order granting reexamination?
Answer:
"Appropriate circumstances" exist to vacate the order granting reexamination where, for example:
(A) the reexamination order is facially not based on prior art patents or printed publications;
(B) reexamination is prohibited under 37 CFR 1.907;
(C) all claims of the patent were held to be invalid by a final decision of a federal court after all appeals;
(D) reexamination was ordered for the wrong patent; or
(E) reexamination was ordered based on a duplicate copy of the request.
Chapter Details:
The answer to this question can be found in chapter 2600 of the MPEP. This chapter covers Optional Inter Partes Reexaminations.
The answer is from the 9th Edition, Revision 08.2017. Depending on future changes to the MPEP, the question and answer may or may not be applicable in later Editions or revisions.
Section Summary:
This question and answer comes from section 2646 of the MPEP.  The following is a brief summary of section 2646.
2646 Decision Ordering Reexamination

This section covers the decision ordering reexamination. The decision will identify all claims and issues, identify the patents and/or printed publications relied upon, and provide a brief statement of the rationale supporting each SNQ/RLP.

A substantive determination by the Director of the Office to institute reexamination pursuant to a finding that the prior art patents or printed publications raise a substantial new question of patentability is not subject to review by petition or otherwise. This section covers further details on petitions to vacate the order granting the reexamination.