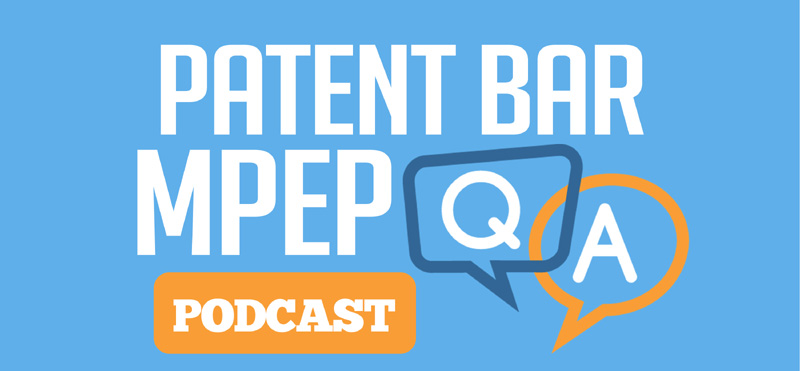 Podcast: Play in new window | Download
Subscribe: Apple Podcasts | Android | RSS
Question:
What may the grounds of refusal for a notification of refusal be based on?
Answer:
The grounds of refusal may be in the form of a rejection based on a condition for patentability under title 35, United States Code (which may include 35 U.S.C. 171, 102, 103, or 112), a requirement for restriction (where more than one independent and distinct design is presented in the application), and/or an objection (where not prohibited by the Hague Agreement).
The grounds of refusal may also be based on applicant's action, including cancellation of industrial designs in the international design application by amendment or by an express abandonment of the application prior to examination.
Chapter Details:
The answer to this question can be found in chapter 2900 of the MPEP. This chapter covers International Design Applications.
The answer is from the 9th Edition, Revision 07.2015. Depending on future changes to the MPEP, the question and answer may or may not be applicable in later Editions or revisions.
Section Summary:
This question and answer comes from section 2920.05(a) of the MPEP.  The following is a brief summary of section 2920.05(a).
2920.05(a) Notification of Refusal

This section covers the notification of refusal.  If the Contracting Party refuses the international registration of the design they will need to communicate the refusal to the International Bureau and provide a statement for the reason of the refusal. In addition, the notification of refusal should include a time period for reply to avoid abandonment where a reply to the notification of refusal is required.

Further details on the notification of refusal are outlined here. These include the dates the notification of refusal must be sent to the International Bureau, what it must include, the grounds of the refusal, and additional details.
https://www.patenteducationseries.com/wp-content/uploads/2016/05/mpep-podcast-art-800.jpg
800
800
Editorial Staff
https://www.patenteducationseries.com/wp-content/uploads/2014/07/logo-centric-bw.png
Editorial Staff
2016-12-23 07:55:42
2021-05-16 13:49:02
MPEP Q & A 63: Grounds of Refusal for a Notification of Refusal