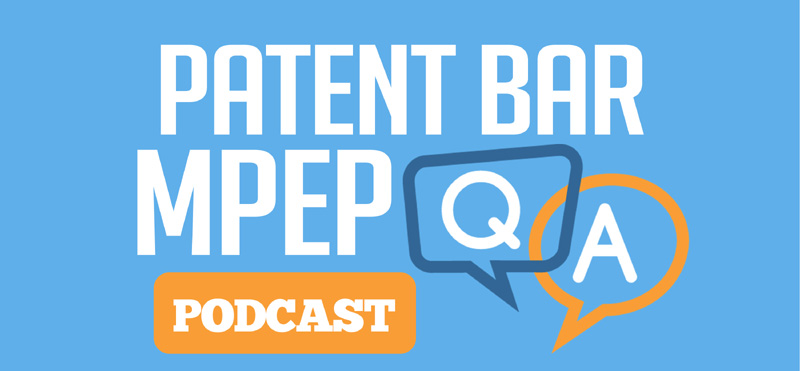 Podcast: Play in new window | Download
Subscribe: Apple Podcasts | Android | RSS
Question:
List one item the applicant must establish under 35 U.S.C. 156(a)(1)-(5).
Answer:
35 U.S.C. 156(a)(1)-(5) require that the applicant establish that:
(1) the patent has not expired before an application under 35 U.S.C. 156(d) was filed (this may be an application for patent term extension under subsection (d)(1) or an application for interim extension under subsection (d)(5));
(2) the patent has never been extended under 35 U.S.C. 156(e)(1);
(3) the application for extension is submitted by the owner of record of the patent or its agent to the Office within 60 days of regulatory agency approval of the commercial marketing application and the application includes details relating to the patent, the approved product, and the regulatory review time spent in securing regulatory agency approval;
(4) the product has been subject to a regulatory review period within the meaning of 35 U.S.C. 156(g) before its commercial marketing or use;
(5) the approval is the first permitted commercial marketing or use of the product (35 U.S.C. 156(a)(5)(A)), except in the case of human drug products manufactured using recombinant DNA technology where the provisions of 35 U.S.C. 156(a)(5)(B) apply, or in the case of a new animal drug or a veterinary biological product where the provisions of 35 U.S.C. 156(a)(5)(C) apply.
Chapter Details:
The answer to this question can be found in chapter 2700 of the MPEP. This chapter covers Patent Terms and Extensions.
The answer is from the 9th Edition, Revision 07.2015. Depending on future changes to the MPEP, the question and answer may be applicable in later Editions or revisions.
Section Summary:
This question and answer comes from section 2751 of the MPEP.  The following is a brief summary of section 2751.
2751    Eligibility Requirements

35 U.S.C. 156(a) sets forth what patents can be extended and the conditions under which they may be extended. 37 CFR 1.710 also addresses the patents that may be extended, and 37 CFR 1.720 describes the conditions under which a patent may be extended.

This section also covers the fact that patents may be extended under 35 U.S.C. 156 even though it has been terminally disclaimed. In addition, it covers the meaning of a product as defined in 35 U.S.C. 156. Further details on 35 U.S.C. 156 are provided.
https://www.patenteducationseries.com/wp-content/uploads/2016/05/mpep-podcast-art-800.jpg
800
800
Editorial Staff
https://www.patenteducationseries.com/wp-content/uploads/2014/07/logo-centric-bw.png
Editorial Staff
2017-03-14 08:02:41
2021-05-16 13:55:34
MPEP Q & A 81: Items Applicant's Must Establish Under 35 USC 156