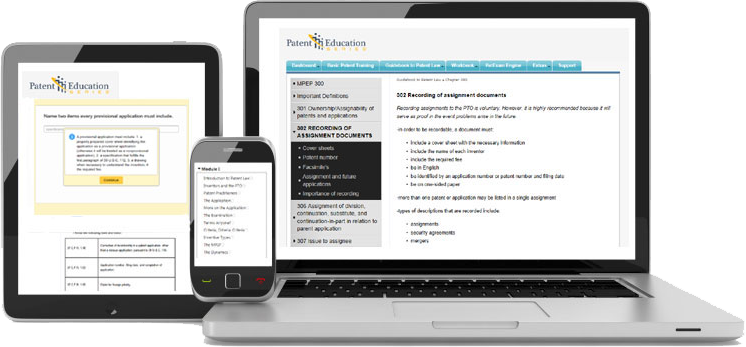 The USPTO changed the source materials of the Patent Bar exam starting October 13th, 2020. Our course includes the newest updates. Fortunately, the Patent Bar exam is still tested over the same version of the MPEP which is the Ninth Edition, Revision 08.2017 (January 2018 publication). This has been the tested version of the MPEP for the last few years. In addition, prior to the October updates, the exam covered 6 PDF supplements. These include the following:
These supplements are all still tested on the exam. So the bulk of the material is the same. The only change to the source materials on the exam is the addition of one PDF which is:
This PDF is 17 pages long and summarizes the changes to the Trials before the Patent Trial and Appeal Board (PTAB). Since there is only one new addition to the exam and it is only 17 pages long, the difference between pre- and post- October exams is not much.
The PES Patent Bar review has added in the new PDF as well as provided a summary of it. We added this in August just in case any of our clients needed to get a head start. Seeing how little the exam has been updated also helps lower anxiety for anyone who has to take the exam right after the change.
Also, keep in mind that the Patent Bar exam must offer new questions as beta questions. That means the questions on this new PDF will likely not count on your exam score for several months.
You will also have access to it on the day of the exam. Since it is so short, as long as you familiarized yourself with the contents beforehand, it should be easy to find any details you need during the exam.
I hope that helps you see exactly what the October 2020 updates are to the exam and how they should not create any extra stress for you!
https://www.patenteducationseries.com/wp-content/uploads/2017/09/pes-patent-bar-review.png
347
746
Editorial Staff
https://www.patenteducationseries.com/wp-content/uploads/2014/07/logo-centric-bw.png
Editorial Staff
2020-11-03 08:03:33
2021-05-16 16:15:07
Patent Bar Updates on Source Materials Starting October 13, 2020