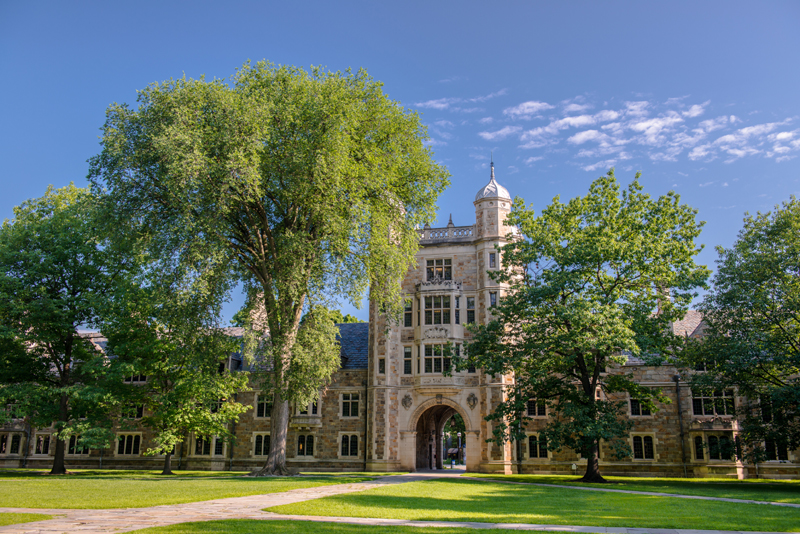 According to a report by the U.S. Patent and Trademark Office, over 38 percent of the United States' gross domestic product is made up of intellectual property. To name a few, the field of intellectual property law protects ownership claims to works of art, inventions, and written works.
Any industry involving human creativity presents an opportunity to practice IP law. Intellectual attorney skills are in demand. There is a wide array of international litigation and commercial legal jobs available.
This legal field is becoming central to U.S. policy disputes. Jon Kappes, an Arizona State University lecturer and lawyer, says that IP law, especially patent law and trademark and copyrights, has become a dynamic area of law in recent years.
Congressional members propose revisions to IP laws on a regular basis. More and more Supreme Court cases on the topic arise. The discipline of patent law may be an enticing option for law school hopefuls who know something about science, art, or entertainment.
Law schools vary in the quality of student preparation for practicing IP law. A strong intellectual program includes three things:
Key Courses
Specific Training
Networking Opportunities
Key courses are those that teach how to apply for patents, how to challenge patents, and file lawsuits alleging violations of a patent. Experts suggest IP law courses that discuss how U.S. Law differs from other countries be offered. That knowledge is marketable as attorneys for multinational firms requiring trademarks, copyrights, and patents in multiple countries.
Law schools should provide specific training with experiential learning opportunities such as internships, clerkships, externships, practicums, and clinics in the areas that are of most interest to the students.
A law school's networking avenues should have solid recruiting relationships with local IP law firms that will provide opportunities for summer work, internships, and externships. There should be an active IP alumni community that attends networking events.
Intellectual Property law schools have been ranked for several years by US News and World Report. The following schools provide the criteria mentioned above and are typically found on the top IP law schools in US News and World Report rankings:
Stanford operates the Juelsgaard Intellectual Property and Innovation Clinic that provides students with practical experience. Students represent clients in such areas as biotechnology, pharmaceuticals, and information technology.
Microsoft provided a grant for the Transatlantic Technology Forum that works to reduce inconsistent policy between the European Union and the United States in areas such as biotechnology, intellectual property, and antitrust law.
The IP program at George Washington University Law School is rooted in a Master of Patent Law program that was launched in 1895. 22 advanced courses and four foundational courses are offered that result in an LL.M in intellectual property law. Students participate in various IP competitions and an IP law association.
Although the University of California – Berkeley does not publicize peer rankings or assign letter grades, its legal curriculum is among the most rigorous in the nation, especially in intellectual law.
Boalt Hall was the first law school to establish such an IP program in 2001.
Students have represented clients before the United States Supreme Court, the California Assembly and Senate, the California Supreme Court, the Federal Elections Commission, and the Federal Trade Commission.
Vanderbilt Law School is located in Nashville, Tennessee. 39 percent of the students who graduate end up in highly coveted positions. 93 percent of the students pass the bar exam.
Nine programs are currently offered. They include intellectual property, international, and social justice. JD candidates focus on specialized areas of law after completing the first-year core curriculum.
Students at New York University School of Law can earn an LL.M in Competition, Innovation, and Information Law. One international and three foundational courses are required before moving into specialty areas such as evidence, administrative, and corporate law.
Students that participate in the Technology Law and Policy Clinic gain real-world experience as they represent clients on behalf of the American Civil Liberties Union. The university publishes the Journal of Intellectual Property and Entertainment Law and maintains an Intellectual Proper and Entertainment Law Society.
Students can take more than 40 IP law-related courses at the High Tech Law Institute. Areas include venture capital, startups, Internet law, broadband, and entertainment.
Santa Clara is among the largest American IP programs. The law school houses a think tank known as the Broadband Institute of California, sponsors student groups in biotechnology and intellectual property, and publishes two technology law journals. Through the school's Entrepreneurs Law Clinic, students provide area entrepreneurs with legal services.
Being in New York City is beneficial to Yeshiva University Cardozo School of Law. 30 courses in areas such as commercial, antitrust, arts, music, sports, patent, and Internet law are offered.
Instructors include Daniel Ravicher, who won a Supreme Court patenting case recently; and Susan Crawford, who Time Magazine named as one of the top technology minds.
More than 40 courses in property and information law are offered at American University Washington College of Law. This is another law school that benefits from its Washington, D.C. location.
The school conducts internships with such organizations as the Library of Congress, the Smithsonian Institute, and the Federal Trade Commission. Through the Glushko-Samuelson Intellectual Property Law Clinic, students manage real cases involving patents, trademarks, and copyrights.
https://www.patenteducationseries.com/wp-content/uploads/2018/03/law-school-ip-800.jpg
534
800
Editorial Staff
https://www.patenteducationseries.com/wp-content/uploads/2014/07/logo-centric-bw.png
Editorial Staff
2018-03-29 08:15:38
2018-01-11 13:53:24
Interested in Intellectual Property Law? Review These Top 8 IP Law Schools