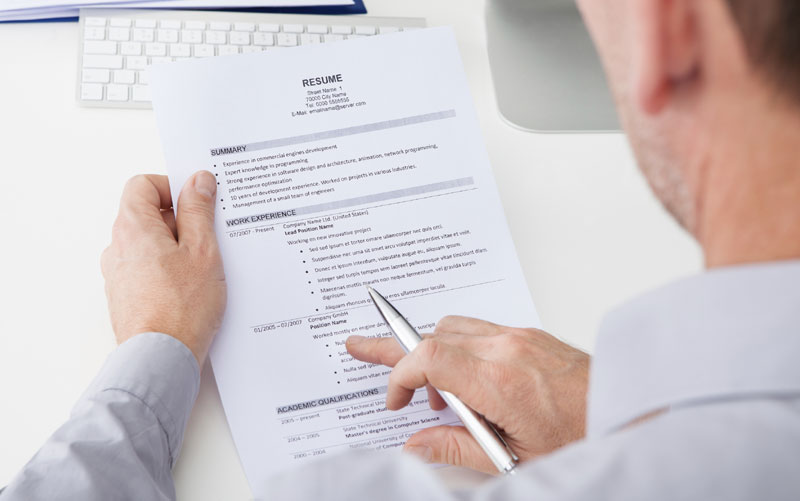 You are a job seeker in the legal field. You've found a reputable patent law job that is hiring and you need to make the best cover letter and resume imaginable to get the job interview. However, good resumes can be a pain to write and very cumbersome to inexperienced resume writers. But it's the most important asset you can write to help you get your next job.
The Internet is inundated with generic sample resume help tips, so finding functional resumes and skills-based resumes with effective legal resume formats that will actually help you is tough.
To help you create a good resume that works, here are some top-notch articles for making your resume stand out among the rest. After all, if you want to look professional, you need to get your foot in the door with a professional resume.
What better place to find legal resume help than from the most prestigious law school in America. Not only does this article provide wonderful advice for those creating a legal resume, but it provides a "before" and "after" example of a bland resume to a more organized and effective one. Some of the advice includes:
Get a grip on the things you need to organize before you start writing. List all the things you've done since high school. Once you have the list, ask yourself a few questions to get a basis of what was most important to edifying your skills or interests in your career. Use the most transformative experiences on your resume.
You should aim for a one-page resume so make some strategic omissions for the sake of keeping the length to a minimum. Some exceptions apply to this rule of a one-page resume, but not many. Don't start adding to your work history by including an endless list of bullet points featuring part-time jobs stacking shelves or other jobs not relevant to the position you want.
Follow-up. It's a good idea to contact your employer and ask if they got your resume along with thanking them for their time. Just be sure to stay in the realm of persistence and not aggression or over-exuberance.
Get the information on how to win over a recruiter straight from the recruiter. The author of this article is Abby Gordon, a former corporate associate with a company focused on international capital markets transactions. She knows her stuff and she imparts the reader with great tips on what makes a lawyer's resume stand out, like:
Making the most important stuff jump off the page since most legal recruiters won't have time to read every word on your resume.
Making sure you can talk intelligently about every single thing on your resume. Don't be blindsided in an interview because you forgot the details of a legal issue you worked on years before. We all want to have a sparkling resume, but it's pointless if you can't talk about everything on there. Refresh yourself on the things you did or learned or else remove it from your resume.
Using the squint test. Tape your resume to a wall, stand ten feet away, and squint. Is it too dense with blocks of black text? Too empty? Though you'll still need to cover all your bases, make sure the aesthetic value of your resume doesn't suffer for its content.
Yale is another great law school providing valuable resume advice. This article elaborates on how to construct your resume on paper so it makes the most sense. At the bottom of the page, you can see examples of stellar resumes, cover letters and thank you letters as well as frequently asked questions concerning resumes. Tips in this article include to:
Be sure your resume is as efficient as possible. It should be accurate, error-free, easy to read, and visually pleasing. Use Times New Roman font size 11 to fit as much as possible without making it too small. Since someone will read your resume for 30 seconds at most, you have to make it as easy to scan as possible.
Organize it as thus: Heading, degrees, scholastic activities, experience, and any additional sections you choose to include.
This article is just one of the helpful things Robert Half Legal can offer you. The company is a provider of skilled legal professionals with major North American and global markets. It assists firms in matching them with potential employees as well as helping individuals in their job search.
Robert Half Legal provides free videos, articles, podcasts, lists of legal jobs and their positions, and even a salary guide for those unsure of what they should expect in the legal field.
This resume article provides some helpful tips for building your resume:
Use action verbs. Passive voice is not only an English no-no but a resume one at that. A vague or passive tone will mark you as a candidate lacking confidence and thus will make you unfavorable. It's a simple thing that most people don't think about, but must be avoided at all costs.
Include other skills, if relevant. You wrote an entire paper about your legal prowess, but what about the other things that make you human? Employers don't want to hire robots, so listing some of the other things you know or can do will make you a more well-rounded candidate in their eyes.
Decide how to list your publications. Have you been published? Great! If so include anything you've got. But if you're bibliography takes multiple pages, create a separate document and add, "list of published works available upon request." It doesn't overwhelm whoever reviews your resume and it makes you seem incredibly professional and grandiose.
These articles will help you get started in the resume building process. Whether it's your first resume or your hundredth, you're sure to find some helpful tips from Harvard, Yale, and these two law firms. Organize it efficiently and with your best experiences, make it the proper length and without any errors, and you should go far.
We hope that with this knowledge on how to build the best resume, you can market yourself so that every law firm finds you irresistible. A great resume opens doors and we want you to be prepared enough to walk through any door you choose.
https://www.patenteducationseries.com/wp-content/uploads/2017/09/resume-800.jpg
501
800
Editorial Staff
https://www.patenteducationseries.com/wp-content/uploads/2014/07/logo-centric-bw.png
Editorial Staff
2017-10-26 08:14:45
2021-05-16 19:09:23
Top 4 Legal Resume Tips Articles on the Web