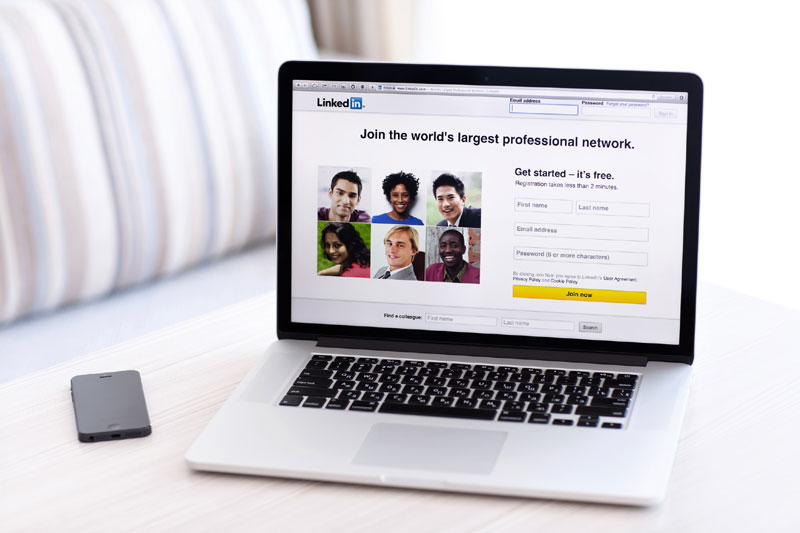 You're working on passing the patent bar exam now, but did you know there's a lot you can do help help you find your first job even before you pass it? Networking takes time, so getting started now is the best move for your future.
The Internet has an infinite amount of resources to help you network and find a job through search engines and business-to-business social networks, but none are better than LinkedIn.
From viewing job postings to improving connections by allowing potential employers to see your profile with a well-written professional headline and drop-down menu with all your information, LinkedIn is a wonderful site for ensuring potential employees stay up-to-date with your skills, gain recommendations and endorsements, and make a name for yourself.
However, because there are so many users, it's hard to stand out among the crowd. And with so much competition, how can you possibly attract the eye of a legal firm so that they want to hire you? To educate yourself on how you can best increase visibility and land your perfect legal job, we've gathered some of the top LinkedIn articles on the web.
This article gives you the quick and dirty tips on how to make your LinkedIn profile shine and get more vital connections. Among other things, it suggests you do the following:
Build your profile much more fully and representative of you than what is offered on a resume. Allow your personality to shine through.
Think like a hiring manager for the job you want using keywords they would search for in your profile. For example, if you specialize in ERISA law and want to get a job in that field, be sure to use "ERISA law" as much as possible.
Sell yourself as much as possible, building an enticing personal brand for potential employers.
Join groups related to your field of interest to help you network and find jobs.
Endorse workers or employers that you know (either current or former) so they may, in turn, endorse you. Good words mean good impressions on those who view your profile.
Despite this magazine typically being more for pop culture, this LinkedIn article provides some pretty impressive tips on how to get ahead on LinkedIn. Some advice includes:
Don't use buzzwords.
Hand pick the right skills to make searching for you much easier.
Do a little detective work on your employer and tailor your profile to them.
Forbes has always forged the way when it comes to helping you find jobs, and it's truly represented in their articles. There's a plethora of useful LinkedIn help guides to choose from, and this one's no exception. For example, here's a helpful quote included in this article:
"I hear from battalions of job-seekers who are under the mistaken impression that simply creating a LinkedIn profile will get them a great job. That's false! LinkedIn is like a Swiss army knife. It's an incredible tool, but it doesn't do the work by itself."
Some other great tips in this article include:
Show how your brain works. Use the blogging platform offered on LinkedIn to get rid of the cliche job descriptions like, "professional-minded worker" in favor of a richer description of you.
Don't leave your profile without a photo. It's unprofessional and tells your future employer that you are careless about what people think about you.
This article covers all the bases you'll need to hit to land the job that's right for you. The article comes from EJ Legal, a specialist legal recruitment agency, so you know that the information gathered is highly crafted and just right for the goals you want to achieve in your career. Within it, you'll find useful tips such as:
Creating a customized URL. It's that extra step that shows potential employers you'll go the extra step to look professional. It also makes it easier to find you than by just using the jumbled mess of characters you'll typically get with a regular LinkedIn URL.
Taking advantage of saved searches. If you find an employer you truly like, save their job posting from the mass of others you're sure to receive. By finding it easily in your saved searches, you can give yourself time to cater your profile to those job postings.
Using LinkedIn plugins for your preferred email clients or browsers. You can import contacts and make networking much easier.
Though outdated by three years, this article offers very good advice that still holds true to this day. It's not so much tip oriented like the previous articles, but it gives valuable questions to ask yourself (in the typical lawyer way) to put you in the proper mindset of creating a great LinkedIn profile. Some questions to ask yourself include:
"What jobs are you hiring LinkedIn to do?" We all know that LinkedIn is great for finding a job, but what about the other purposes the service offers? LinkedIn can offer you potential new clients expanding your network to include more people. LinkedIn works for you and, just like a well-rounded employee, use its many faculties in your own career.
Bring LinkedIn into the real world. Though LinkedIn is an Internet resource, it doesn't just have to stay online. It can complement the work you are already doing in the real world. If you're meeting someone for lunch, you can take a quick look at their online profile to know what they look like. If you're traveling, you can see which new people will be near you so you can connect with them. The possibilities of using LinkedIn are endless and can improve your life immensely.
Make connection plans. While the typical advice is "connect as much as possible!" it's a laborious task to take on since there are so many people to connect with. By giving yourself a plan of action, it can make networking much less daunting and more meaningful.
Those were some of the best LinkedIn articles we found for job searching lawyers. With this knowledge now in your arsenal, you can make one incredibly good looking LinkedIn profile sure to attract scores of employers.
https://www.patenteducationseries.com/wp-content/uploads/2017/09/linkedin-patent-800.jpg
533
800
Editorial Staff
https://www.patenteducationseries.com/wp-content/uploads/2014/07/logo-centric-bw.png
Editorial Staff
2017-11-23 08:13:56
2021-05-16 19:07:02
Top 5 LinkedIn Tips Articles on the Web