As you may realize by now, the Patent Bar exam will be updated starting March 16th, 2016. The updates include the switch from the 9th Edition MPEP to the 9th Edition, Revision 07.2015 which includes many changes (and a brand new chapter).
While March 16th is still over two months away, I'd like to update you on what we've been working on in order to get our course fully up-to-date.
We've been updating the course for the last several weeks.  At least 100 hours of effort have gone into updating the course at this point. We offer a lot of tools and features and update every last one of them to help our clients succeed on the exam.
To give you a short background, the PES Patent Bar review course revolves around a 3-step strategy.
The first step covers the fundamentals of patent law.  This way if you're brand new to patent law or need a refresher, you can start with this introductory step. It consists of video training modules, quick quizzes, and a glossary of terms.  The entire Basic Patent Training portion of the course can currently be completed in about 8 – 12 hours time. Think of it as a 1- or 2- day interactive seminar that you can spread out over as long as you'd like.
Since step 1 only covers the basics, it's all ready for you whenever you plan to take the exam.
The second step of our review course consists of learning the tested details of the MPEP. This is covered in our Guidebook to Patent Law and Workbook quizzes. Step 2 is where you'll spend most of your time as you prepare for the exam.
Much of the Guidebooks consists of the key points from the MPEP.
In order to organize these we read the entire MPEP chapter and pull out the key points most likely to be tested on the exam.
You might be wondering how we know.
For starters, we have over 14 years experience reviewing exam questions (along with creating them).
In addition, certain points from the MPEP are not relevant for patent practitioners, instead they are geared toward examiners and other USPTO staff.  These 'examiner-based' facts are rarely tested.
Forms are not tested on the Patent Bar exam. Content related to forms can be pulled out.
Much of the tested content deals with specific types of content and this often includes the differences between what happens prior to a particular date vs. what happens after this particular date.
In addition, there are certain topics that are always tested which we know from studying old exams and surveying our clients.
Claims are one such topic.  You will see fact based questions dealing with claims in addition to questions asking you to apply the facts about writing claims.
There are many topics like this that are always covered on the exam and we can anticipate them no matter how the MPEP is updated.
In addition, there are specific types of details the Patent Bar covers and we make sure to include those details in the key points.
We are pretty good at this so we can cut out about 70% of the MPEP. And with our course you can rest assured that an actual Patent Practitioner is reviewing the MPEP for the relevant points.
We then organize the remainder of the content into an easier to review page.
We pull the most important laws and rules out and put them in a dropdown format.


That way you don't see them unless you click on a tab. This helps you focus in on the key points and only get into the actual law or rule when you decide to do so.  Most of the key points discuss the law or rule so you often don't need to stress out over them.
We use differences in typography to pull the sections, sub-sections, and sub-sub-sections out so you can visually see where you're at in the chapter.  We indent sections and try to help you focus on one key sentence at a time.
We include icons that you show pre-AIA and AIA material so you can see at a glance what you're currently learning.
In addition to the key points, we offer detailed summaries of each section, sub-section, and sub-sub-section of each MPEP chapter. The summaries we provide are pretty substantial.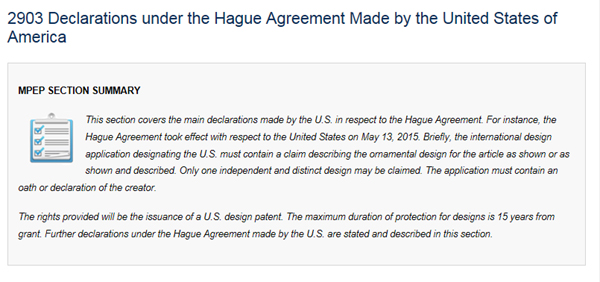 Hint … if you just review the summaries and the sections with frequency charts you'll be well on your way to passing the exam.
It's one way we've got people passing the exam with only 1 month of preparation.
That's because these summaries give you the main points of the chapter including a breakdown of what's covered within each and every section, subsection, and sub-sub-section.
In case you haven't seen, the MPEP doesn't stop at just labeling a section 2909, they often go down to 2909.02(a). That's what we mean by sub-sub-section.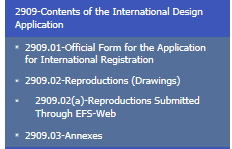 Often it's the details that are tested, so knowing the main points from each section really helps. It also helps you learn the structure of the MPEP which is highly important for exam day look-up.
We also narrate all the summaries and walk you through the entire chapter, one summary at a time.  We use mind maps to help you see the structure of each chapter.  These are produced into Video Digests which range from 5 minutes to 40 minutes for a chapter; depending on its size and importance on the exam.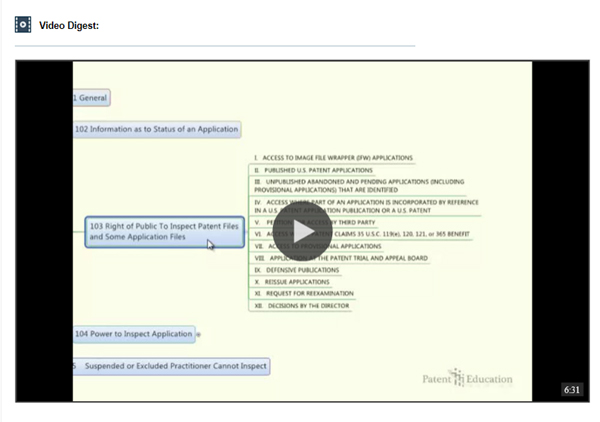 You can also review the mind maps in PDF format or as an outline. These tools really help those who are visually oriented.
In addition to all this we offer section frequency charts embedded within the chapters so you can see at a glance just how important the section you're currently on may be in regards to the exam (again, we cut out about 70% of the MPEP so some sections are completely left out already for you).

There are now 29 chapters in the MPEP.  Each and every chapter of the Guidebooks will be reviewed and updated by us.  Most every chapter has been impacted by the 07.2015 updates. We have already updated about 75% of the chapters so you can rest assured they will all be updated well before the exam changes.
In addition to all the features in the Guidebooks, you will also work through the Workbooks in step 2.
The Workbook quizzes include short answer, true/false, and fill-in-the-blank questions.  There have been several chapter quizzes we've needed to completely re-do in order to get ready for the updates. The Workbook quizzes for these chapters have also been completely re-done to ensure you're getting the practice you need on the right material.
Our course offers a massive amount of tools. Enough that you may not need them all. But they're still available for you. And we want to make sure they are all updated for you.
We are still helping many clients planning to take the exam before the March cut-off date so we offer 2 different versions of the Guidebooks and 2 different versions of many of the Workbook quizzes.   That way depending on when you're taking the exam, you can follow the right track (it's all color coded for you to make it as easy as possible).
As you can see we take updating step 2 of our materials for the exam very seriously. It's the heart of the course and where people make-it or break-it when preparing for the exam.
The third and final step of the PES Patent Bar review course consists of taking practice exam questions. We are currently creating new questions covering the new material in addition to updating the old questions we already have (there are about 500).
Since this is the final step before taking the exam, we'll update these last, but still well before the deadline for the updated exam passes. That way even those first in line to take the exam once it is updated will have all the material they need to be fully prepared.
In addition, new material is always run through as beta questions first. So we'll keep these new questions separate from the rest of the course for a while so you can decide how much emphasis you'd like to place on them (considering they may not actually factor into your test score).
We've been in business since 2001 and have handled countless updates during that time.  Our update process has been streamlined to help people prepare for the exam no matter when they plan to take it. If you have any questions, please don't hesitate to contact us. We'll do our best to help you out.
We're wishing you all the best in the New Year!
https://www.patenteducationseries.com/wp-content/uploads/2016/01/07.2015-video.jpg
422
600
Editorial Staff
https://www.patenteducationseries.com/wp-content/uploads/2014/07/logo-centric-bw.png
Editorial Staff
2016-01-07 16:23:53
2016-01-08 01:40:04
Update on 07.2015 Patent Bar Review Course