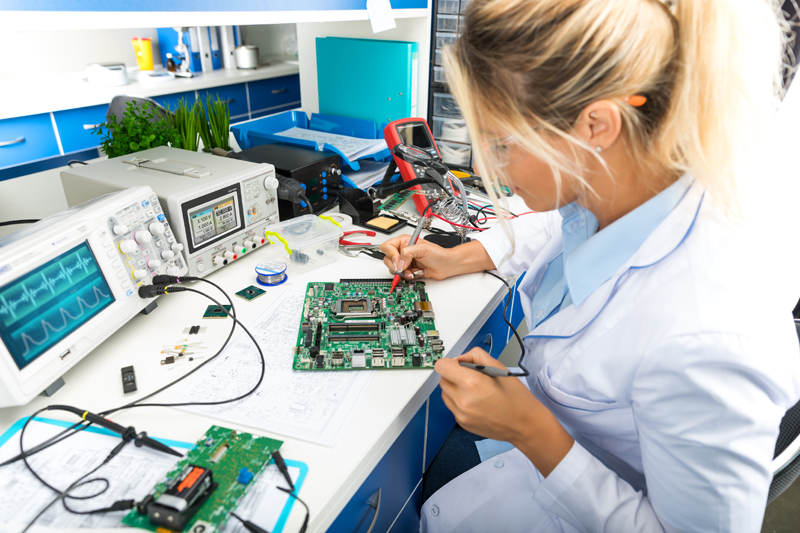 Whether you start out in mechanical engineering, chemical engineering, engineering management, or in civil engineering, a career change may be in the cards for you. The employment landscape of today rewards engineering graduates with the courage and perseverance to forge a career path that applies old skills to new challenges and opportunities.
Career Transition Ideas for Engineers
The fundamental skills of an engineer such as strong numeracy, problem-solving, and logical thinking are desirable characteristics for:
Research and Development
Patent Agent or Attorneys
Business Leaders
Software Specialists/Product Management
Teachers
We'll get into each of these career possibilities here …
1. Research and Development
There are some alternative careers already in the industry of your expertise. Large engineering employers often run programs that focus on research and development. The focus changes from generality to understanding technical and scientific research.
If you'd like to get into a career in research and development, you'll want to develop expertise in a specific area such as chemistry or physics. By studying the most current research on a particular topic, identify the employer's conception of value, and build routines around the observation.
The change in perspective requires flexibility. Gain the trust of those with whom you work by acknowledging your weaknesses and asking for help in being brought up to speed. Demonstrate a willingness to learn and put forth the effort.
2. Patent Agent or Attorney
The patent bar is open to engineers hoping to practice as a patent attorney or agent. Once a qualified engineer takes and passes the patent bar exam, he or she will become a registered patent agent (even without attending law school). Patent attorneys and agents write and prosecute applications for patents at universities, corporations, law firms, or practices of their own.
There are many free resources to help in the Bar Exam preparation on this site. The interested engineer can explore a career in patent law through free interviews with patent professionals, a career assessment, and online video courses.
3. Business Leader
One-third of the S&P 500 CEOs in 2014 had an undergraduate degree in engineering. A close look at business and engineering reveals that the two specializations require some overlapping skills.
Both business leaders and engineers want things to run efficiently. They look to innovative and creative solutions while remaining rooted in the realm of possibilities. The knowledge and skills obtained in the study of engineering transfer remarkably well to business careers.
These skills include:
Effective problem-solving, time management, and project planning
Attention to detail
Good communication and teamwork
Experience in data processing and numeracy
A high level of technical knowledge and computer skills
These skills are part of the reason there is a growing dominance of engineers in the business leaders of the world. Business leaders typically earn slightly more than engineers and often prefer the business sector working conditions.
4. Software Specialist/Product Management
Software industry hiring managers are looking for engineers for product management jobs. There are sometimes unrealistic expectations. It is best that engineers, transitioning to software product managers first act as the technical program manager, customer support in a startup, sales engineer, or project manager.
First, product manager jobs are usually a stepping stone to the ultimate career goal. Someone with the time and money benefits from earning an MBA from a business school. While studying, you can create a network of extraordinary individuals, get a view of the global business world, and get a different perspective on problems and develop communication skills.
An alternative would be signing up for immersive classes that last from six to 24 weeks. They cover topics that will aid in getting that dream job. Software engineers believe programming skills guarantee a product manager job. They emphasize their technical background on resumes and during interviews. The talent that wins the position shows interest in other industry areas and demonstrates a diverse knowledge.
5. Teaching
What first attracts many people to engineering is the application of science and the use of problem-solving skills. The knowledge of these processes can be used to train others and turn young scientists into engineers.
Teaching engineering related subjects allows a person to look at creative engineering aspects and help students develop problem-solving skills. The engineer can provide real-world examples from course study and time spent as an engineer.
Scientific and technical concepts are brought to life. Requirements include experience with children, an enthusiasm for the subject, and excellent communication. Other similar jobs put an engineering background to use as a higher education lecturer who specializes in a particular area.
Make Sure You Know What You Want
Each organization hires former engineers based on a set of factors pertinent to the new field. Engineers who succeed in the endeavor have skills in a specific area that makes them stand out from other candidates.
In addition to skills, you will want to make sure the new career offers many possible advantages in comparison to your old career. Advantages might include the following:
A higher salary
To be creative
To help others
To do something sociable
To work on cutting-edge projects
To build or make things
To travel
It's important to know what motivates you before you take the next leap and make sure the profession includes at least most of what you want.
https://www.patenteducationseries.com/wp-content/uploads/2018/03/engineer-transition-800.jpg
533
800
Editorial Staff
https://www.patenteducationseries.com/wp-content/uploads/2014/07/logo-centric-bw.png
Editorial Staff
2018-03-15 08:15:41
2018-01-11 13:53:25
Top 5 Careers for Engineers to Transition Into